Welcome to Nu-Hope Laboratories, Inc.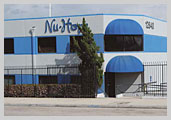 In 1958, Edmund Galindo solved his ostomy problems and in the following year, to help others with their ostomies, he established Nu-Hope Laboratories.

Since then, our personal attention combined with our thoughtful ostomy products and custom ostomy solutions have helped over 100,000 people to live happy, normal lives.

Family Owned and Operated in Southern California Since 1959.